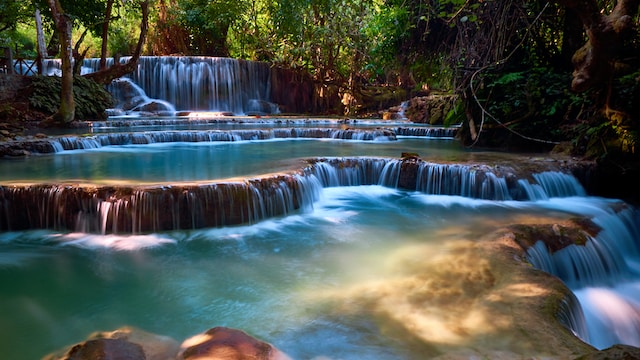 In prayer we converse with God. The creator of Heaven & Earth.
In conversing with God, we speak, we also hear. Sometimes silence conveys more than words. Sometimes a whisper. Sometimes a nudge. Sometimes it's a touch. The hope, peace, joy and reassurance received is more powerful than anything in the world can ever offer.
Defying logic and reasoning, every situation and circumstance changes and bows down when taken to our Father God in praye,r according to His will.
God is not limited. He speaks through the Word of God (i.e Holy Bible), from specific verses which come alive to us at a specific moment, at a specific circumstance. Sometimes he speaks through the star light sky, the birds in your garden, the voice of your parents, the roaring weaves, the peaceful lake, the blossom of sunflowers, your breakfast, the smile of a child, the twinkle in the eyes of a stranger, the voice of a prophet, a conversion with a loved one, a hug and ways and means beyond imagination.
The more you wait upon Him, you hear Him more. The King of Kings always speaks to us. His conversations are specific, address us by name, significant to our life and our life circumstances.
The more we are willing to spend time in His presence, the more we are filled with expectation. When we hear Him, we become aware of His goodness, we get drenched in the outpouring of His love.
Yes, prayer is truely exciting. Conversations with God is truely the very best thing we can engage in, we can ever desire.
We get to have Peace flowing like a river all around us.
Stress anxiety can never approach us as greater truth, the Prince of Peace is with us is a greater reality of ours.
In our converstions with the Almighty God, we have the obvious prayer partners: our spouse, dear family members, loving friends, the gathering of saints in a fellowship or the church. Each of them are special and good.
When two or more are gathered in the name of Jesus, when there is unity, when there is agreement, the prayers move mighty mountains, defying limitations of logic and reasoning. No where it is mentioned that prayers require to be wordy.
For where two or three are gathered together in My name, I am there in the midst of them. Matthew 18:20 NKJV.
Having agreement is also important when praying along with someone.
"Again I say to you that if two of you agree on earth concerning anything that they ask, it will be done for them by My Father in heaven. For where two or three are gathered together in My name, I am there in the midst of them." (Matthew 18:19-20 NKJV)
Jesus Christ, our prayer partner
In all these moments we often forget the most important payer partners that we have. Jesus Christ our Lord and Saviour himself is our prayer intercessor praying for us in the throne room of God.
It is Christ who died, and furthermore is also risen, who is even at the right hand of God, who also makes intercession for us. (Romans 8:34 NKJV )
Jesus Christ intercedes for us God's perfect will and plan for us. Prayer for not entering into temptation is a matter of God's will for us. Yet being willing to go through situations and trials which are God's perfect will should be matters we should be open to.
Watch and pray, lest you enter into temptation. The spirit indeed is willing, but the flesh is weak." Again, a second time, He went away and prayed, saying, "O My Father, if this cup cannot pass away from Me unless I drink it, Your will be done." (Matthew 26:41 NKJV)
In yet again another situation we see Jesus praying for Simon Peter. Although Peter was certain that he would be able to stand strong and not deny Jesus, we see Jesus knew the truth of the matter.
And the Lord said, "Simon, Simon! Indeed, Satan has asked for you, that he may sift you as wheat. But I have prayed for you, that your faith should not fail; and when you have returned to Me, strengthen your brethren." (Luke 22:31-32 NKJV)
We can see that Jesus knew well in advance the strengths and weaknesses of Simon Peter. Thus being aware that in the same way Jesus Christ is aware of our situations and circumstances gives us much freedom and assurance. Anxiety and fear has no place when we are aware of this precious payer partner.
How did Jesus handle the request from Mary and Martha?
Jesus our best role model is prayer, always sought the fathers will in any situation and circumstances. His father's perspective about any situation only mattered to Jesus Christ.
Before Jesus prayed for Lazarus' resurrection, he sought and clearly understood Father God's perspective.
Now when He had said these things, He cried with a loud voice, "Lazarus, come forth!" And he who had died came out bound hand and foot with graveclothes, and his face was wrapped with a cloth. Jesus said to them, "Loose him, and let him go." (John 11:43 NKJV)
After the sisters of Lazarus informed Jesus about Lazarus being sick, Jesus sought the heavenly fathers perspective and will in this situation.
Therefore the sisters sent to Him, saying, "Lord, behold, he whom You love is sick." When Jesus heard that, He said, "This sickness is not unto death, but for the glory of God, that the Son of God may be glorified through it." Now Jesus loved Martha and her sister and Lazarus. So, when He heard that he was sick, He stayed two more days in the place where He was. (John 11:3-6 NKJV)
The love Jesus had for Lazarus and his sisters was much. But his actions were based on what he understood from the father. He did not allow a response directed from a place of emotion. It would not deliver the results which Jesus and Father God wanted from the situation.
Then Jesus answered and said to them, "Most assuredly, I say to you, the Son can do nothing of Himself, but what He sees the Father do; for whatever He does, the Son also does in like manner. (John 5:19 NKJV)
Jesus' choice of response, reminds us that knowing the father God's perspective mattered most, as that is powerful. That quicken signs, wonders and miracles. That was powerful to bring glory and honour to God.
When Jesus knew His fathers will, he knew it for certain without any doubt. These things He said, and after that He said to them, "Our friend Lazarus sleeps, but I go that I may wake him up." (John 11:11 NKJV)
Holy Spirit, our prayer partner
The other powerful prayer partner we have is the precious Holy Spirit. The Holy Spirit is given to each believer which includes each one of us. Jesus asked his disciples to wait in Jerusalem for them to receive the promise from the Father God.
Behold, I send the Promise of My Father upon you; but tarry in the city of Jerusalem until you are endued with power from on high." (Luke 24:49 NKJV)
For Christians Jerusalem signifies the dwelling place of God. This is certainly the temple of God, the place where God is worshipped is a community. The place of worship is a place where many christians receive the power of the Holy Spirit in a very powrful way. Even in times of online prayers which was the morm during the covid pandemic many received a personal experience with the Holy Spirot during an online service.
The location is not a limitation or an excuse for a christian who seeks God in spirit and truth. We know for certain that our body is the temple of the Holy Spirit.
Or do you not know that your body is the temple of the Holy Spirit who is in you, whom you have from God, and you are not your own? For you were bought at a price; therefore glorify God in your body and in your spirit, which are God's.(1 Corinthians 6: 19-20 NKJV)
As we see in Romans 8:26, the Holy Spirit intercedes for us. The great! This is powerful, because the Holy Spirit being part of the triune God, knows God's perect will. Thus the prayers are on target to fulfil father God's perfect fill.
Likewise the Spirit also helps in our weaknesses. For we do not know what we should pray for as we ought, but the Spirit Himself makes intercession for us with groanings which cannot be uttered.(Romans 8:26 NKJV)
Be blessed in your prayers, knowing that you have the most powerful prayer partners. In addition our prayers are empowered by the mighty army of saints of God who are intecessarors… many of them are not known to us.