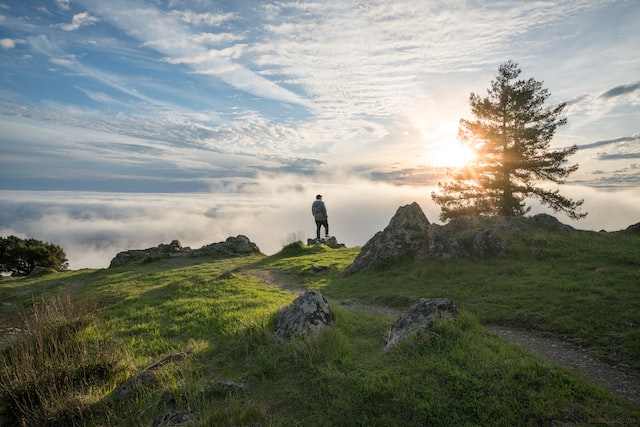 The following prayer is based on Isaiah 41:8–16.
First we have the prayer. Below this, we have the major scripture reference used in making this prayer.

Lord, I am so glad that you have chosen me.
Regardless of who I have been thus far.
Thank you, Lord, for reminding me that my past or my background do not matter.
I am empowered. I know that my walk with You is the only thing that matters.
Lord, because You are with me, I will not fear.
I shall not be anxious, for you are my God.
Your hand of power makes me strong.
Your hand of victory makes me win.
Your hand of justice gives me righteousness.
You are more than enough for me.
Thank you for always being with me in all circumstances.
Because you are with me, fear, anxiety, and worry cannot influence my thoughts and my actions.
Lord, I know that when I call you, I will hear from You.
Lord, I know you are always near to those who put their trust in you and wait on you.
I ask for wisdom and resources to handle all circumstances.
Because my trust is in God, those who trouble me will be ashamed.
Lord, your presence in my life will silence the noises I hear and stop wars around me.
Lord, thank you for driving away all fear, anxiety, and worry.
Instead, I receive your presence and your spirit.
Your Lordship over my life makes me mighty and powerful in you.
I ask for and receive confidence, wisdom, and strength from the Lord.
I will move every mountain of hindrance.
The Lord will scatter and confuse every enemy I have.
I will rejoice in the Lord and give all glory to my God.
All of these things I ask for and receive in the name of Jesus Christ. Amen.
Here are the verses from Isaiah 41:8–16 on which the above prayer is based.
8 "But you, Israel, My servant,
Jacob whom I have chosen,
The offspring of Abraham My friend,
9 You whom I [the Lord] have [a]taken from the ends of the earth,
And called from its remotest parts
And said to you, 'You are My servant,
I have chosen you and have not rejected you [even though you are exiled].
10 'Do not fear [anything], for I am with you;
Do not be afraid, for I am your God.
I will strengthen you, be assured I will help you;
I will certainly take hold of you with My righteous right hand [a hand of justice, of power, of victory, of salvation].'
11 "Indeed, all those who are angry with you will be put to shame and humiliated;
Those who strive against you will be as nothing and will perish.
12 "You shall search for those who quarrel with you, but will not find them;
They who war against you will be as nothing, as nothing at all.
13 "For I the Lord your God keep hold of your right hand; [I am the Lord],
Who says to you, 'Do not fear, I will help you.'
14 "Do not fear, you worm Jacob, you men of Israel;
I will help you," declares the Lord, "and your Redeemer is the Holy One of Israel.
15 "In fact, I have made of you a new, sharp threshing implement with sharp edges;
You will thresh the mountains and crush them,
And make the hills like chaff.
16 "You will winnow them, and the wind will carry them away,
And a high wind will scatter them;
But you will rejoice in the Lord,
You will glory in the Holy One of Israel.
(Isaiah 41:8-16 Amplified Bible version)