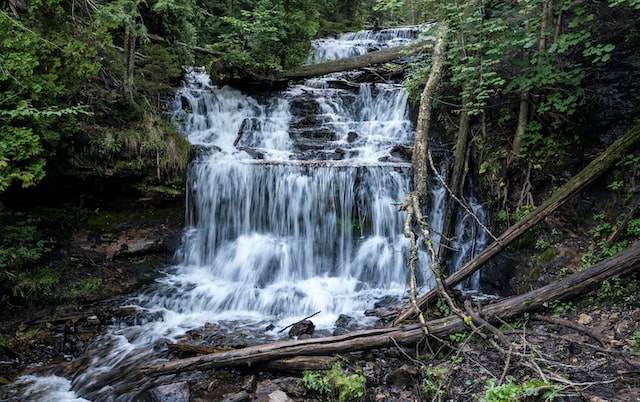 If you have fear, you have come to the right place. King David spoke about his fear to God. He acknowledged it. He speaks about it to God. The conversations with God are a good model for us to follow in our prayer time. When you read the psalm from this perspective, we can glean conversational prayer snap shots from this psalm. 
From Psalm 27, we see that King David experienced fear at various levels. Wicked people were troubling him. He had enemies and foes. Entire armies came to wage war with King David. King David even feared that God would be angry with him and forsake him. But he was certain about God's love for him. As he says, even when his parents forsake him, God will lovingly accept him. Growing up as a child, he had experienced descrimation from his father. When the prophet Samuel visited Jesse, David's dad, he presented all his sons but hid David. ( Jesse was the grandson of Boaz and Ruth). All these fears clouded King David's mind. So the psalm is a wonderful guide on how to navigate fear from a person who experienced a wide range of diverse fears.
But King David chose not to camp in "fear". He chose to move on. He chose not to give in to fea. He chose to meditate on God, and God's protection for him. The way King David handled fear is remarkably encouraging. 
We have options. We have choices to choose from. The enemy comes to steal, kill, and destroy.  10 The thief cometh not, but for to steal, and to kill, and to destroy: I am come that they might have life, and that they might have it more abundantly. 11 I am the good shepherd: the good shepherd giveth his life for the sheep. (John 10:10-11)
In  Psalm 27, we see King David make specific choices to remember who God is to him.
The Lord is my light and my salvation; Whom shall I fear?
The Lord is the strength of my life; Of whom shall I be afraid? (Psalm 27:1)
Remembering the nature of God, being certain of who God is to us, is so powerful, it can make fear flee from us. Meditating, declaring aloud this truth is a great place to camp and establish our mind in truth. You can deny fear a place of influence when you choose to remember who God is to you.
What is the Lord to you?
Here is King David's response. You can choose to take this perspective and make it yours.
The Lord is to me :
a)my light,
b)my salvation,
c)the strength of my life.
See what happens?
When we choose to remember God as our light, salvation, and strength, then two interesting things happen.
1.The wicked, our enemies and foes – all of them stumble and fall.
2.My heart does not become fearful.
What do you have confidence in?
The confidence I have is so strong that even if a war is waged against me, my desire will be to be in the house of God. The House of God is a place where God is always present. I will always desire to be in God's will always, in God's path for my life, never straying away from it. And this greatest desire of mine will be more than granted by God.
As God's nature is to give us more than we ask or desire, I am certain that God will make this possible for me. Now all glory to God, who is able, through his mighty power at work within us, to accomplish infinitely more than we might ask or think. (Ephesians 3:20)
What do you do in the House of God?
a) With my heart, I will see and enjoy the beauty [the sweet attractiveness and the delightful loveliness] of the Lord.
b) I will meditate, consider, and inquire in His temple what the Lord is saying to me, the Lord's will and desire in the situation I am facing. I will know what God wants me to do and not to do.
NOTE:  That I may dwell in the house of the Lord
All the days of my life,
To behold the beauty of the Lord,
And to inquire in His temple.(Psalm 27:4b)
What will the Lord do when you are in trouble?
When I am in trouble:
1) God will hide me in His shelter, in His secret place, so I am not seen by my enemies.
3) God will also set me high upon a rock – from where I can see the enemies bewildered.
What will you do during the time of trouble?
a)I will lift my head above my enemies around me.
b)In God's presence, I will offer sacrifices and shouts of joy;
c)I will sing praises to the Lord.
What does the Lord want you to do then?
The Lord wants me to desire being in His presence. I should desire this as the most important thing in my life. Nothing is as vital as this.
My response is prompt. I will respond by seeking and desiring the Lord's presence as the most important matter in my life.
When You said, "Seek My face,"
My heart said to You, "Your face, Lord, I will seek." (Psalm 27:8)
What do you want the Lord to teach you?
I want the Lord to teach me the Lord's way.
I want the Lord to lead me on a plain and even path since I have enemies wanting to harm me. The Lords' ways are safe and secure. The Lords way is out of reach and out of sight to my enemies.
Additional note 1: No enemy can come near you if you walk in the path bearing the fruits of the spirit in your words and deeds. The fruits of the spirit are given below. But the fruit of the Spirit is love, joy, peace, patience, kindness, goodness, faithfulness, gentleness, and self-control. Against such things, there is no law. ( Galatians 5:22,23)
But if you are led by the Spirit, you are not under the law. ( Galatians 5:18)
If you can read Galations 5:16-25 now or later.
Additional note 1: Love always wins. Love, Joy and Hope remain. Of these, the greatest is Love. Love never fails. (See 1 Corinthians 13:8a) And now these three remain: faith, hope and love. But the greatest of these is love. (See 1 Corinthians 13:13)
What should you believe? Why?
I believe that I will see the goodness of God during my life on earth. I will certainly see the goodness of God when I am alive. If I did not believe this, I would have fainted!
What should you do?
I will wait on the Lord. God will strengthen my heart as I wait on Him.
I will read the Bible. I will pray in tongues. I will renew my mind. I will change the way I live. I will seek to hear from God. I will seek God's perfect will for my life. I will seek to live bearing the fruits of the Hopy Spirit in my words, deeds, and actions.
Note: We have verses 13 and 14, the last verses of this Psalm 27 – referring to the last two questions here. The verses are given from the 3 versions of the Bible for you to read and enjoy the 3 flavours, much like the many flavours of Baskin Robbins ice cream.
13 [What, what would have become of me] had I not believed that I would see the Lord's goodness in the land of the living! 14 Wait and hope for and expect the Lord; be brave and of good courage and let your heart be stout and enduring. Yes, wait for and hope for and expect the Lord. (version AMPC)
13 Yet I am confident I will see the Lord's goodness while I am here in the land of the living. 14 Wait patiently for the Lord. Be brave and courageous. Yes, wait patiently for the Lord.(version NLT)
13 I would have lost heart, unless I had believed. That I would see the goodness of the Lord. In the land of the living. 14 Wait[e] on the Lord; Be of good courage, And He shall strengthen your heart; Wait, I say, on the Lord! (version NKJV)