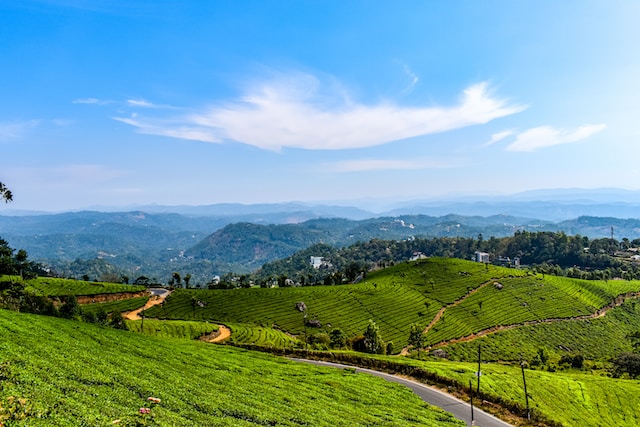 Some of us have self doubt. For some it's often. For others it's occasionally. We doubt ourselves. Lack of confidence can increase on certain days, and can change depending on circumstances.
When we are well prepared, when we have a bigger bank balance, we can feel confident. When we are well dressed, our confidence can increase? But inspite of being well prepared for a meeting, for a test, after any event, we can feel like a deflated balloon…, we can feel dejected and sorry for ourselves. Even sickness may perhaps take us into a similar journey.
But should that be the case? We need to remember that our trust, hope and certainty should always be on the Lord.
Situations and circumstances can be different and contrary to expectations. But none of these should shake our confidence and trust in the Lord.
We know God created us. He knew us before we were in our mothers womb.
Jeremiah 1:5 says Before I formed thee in the belly I knew thee; and before thou camest forth out of the womb I sanctified thee, and I ordained thee a prophet unto the nations. (Jeremiah 1:5 version KJV)
Is'nt that marvellous that the Lord of the universe knew us before we were formed in our mothers womb. We were not an accident. We can certainly have the same consideration from the Lord which he gave Jeremiah, since God treats every person the same. Then Peter opened his mouth, and said, Of a truth I perceive that God is no respecter of persons: (Acts 10:34 version KJV )
For there is no partiality with God. ( Romans 2:11 version NKJV)
Both the verses remind us that God knew Jeremiah before he was in his mothers womb. It also reminds us that God knew us before we were formed in our mothers womb.
Fear not – says the Lord to us
The most repeated phrase in the Bible is, "Fear not".
God told this to many individuals as well as groups of people as they faced many challenges. The angels also told his people not tofear. Here are a few instances.
God speaks to Abraham in a vision. After these things the word of the Lord came to Abram in a vision, saying, "Do not be afraid, Abram. I am your shield, your exceedingly great reward." ( Genesis 15:1 version NKJV) God reiterated that Abraham had no reason to fear. God says that God was his shield and there was no reason to fear as God would defeat all the enemies advances. God further said that God was his great reward.
When the angel of the Lord probably appeared to Zachariah for the first time, Zacharia was afraid just like many of us would be. The angel had after all visited Zachariah when he was with great focus and attention doing work at his place of work. As Zachariah was a priest, he was working in the temple, as it was his duty as per the roster, to worship in the inner court.
According to the custom of the priest's office, his lot was to burn incense when he went into the temple of the Lord. And the whole multitude of the people were praying without at the time of incense. And there appeared unto him an angel of the Lord standing on the right side of the altar of incense. And when Zacharias saw him, he was troubled, and fear fell upon him. But the angel said unto him, Fear not, Zacharias: for thy prayer is heard; (Luke 1:9-13 version NKJV)
The angel of the Lord wanted to reassure Zachariah, that he should be at ease without fear. Months later, probably seven months or so, the very same angel appeared to Mary, who was to give birth to Jesus Christ. She was told about the assignment God had planned for her. Angel Gabriel gave Mary a heads up. The angel informed Mary about God's plan. He let her know what was to come to pass. In these verses, we see the angel giving assurance and comfort of the Lord God, asking Mary not to fear.
And in the sixth month the angel Gabriel was sent from God unto a city of Galilee, named Nazareth, To a virgin espoused to a man whose name was Joseph, of the house of David; and the virgin's name was Mary. And the angel came in unto her, and said, Hail, thou that art highly favoured, the Lord is with thee: blessed art thou among women. And when she saw him, she was troubled at his saying, and cast in her mind what manner of salutation this should be. And the angel said unto her, Fear not, Mary: for thou hast found favour with God.(Luke 1:26-30 version NKJV)
Here is an extremely powerful series of verses where the Lord God reminds Israel, i.e. all who have Jesus Christ as their saviour not to fear.
But thou, Israel, art my servant, Jacob whom I have chosen, the seed of Abraham my friend. Thou whom I have taken from the ends of the earth, and called thee from the chief men thereof, and said unto thee, Thou art my servant; I have chosen thee, and not cast thee away.
Fear thou not; for I am with thee: be not dismayed; for I am thy God: I will strengthen thee; yea, I will help thee; yea, I will uphold thee with the right hand of my righteousness. Behold, all they that were incensed against thee shall be ashamed and confounded: they shall be as nothing; and they that strive with thee shall perish.
Thou shalt seek them, and shalt not find them, even them that contended with thee: they that war against thee shall be as nothing, and as a thing of nought. For I the Lord thy God will hold thy right hand, saying unto thee, Fear not; I will help thee.
Fear not, thou worm Jacob, and ye men of Israel; I will help thee, saith the Lord, and thy redeemer, the Holy One of Israel. Behold, I will make thee a new sharp threshing instrument having teeth: thou shalt thresh the mountains, and beat them small, and shalt make the hills as chaff.
Thou shalt fan them, and the wind shall carry them away, and the whirlwind shall scatter them: and thou shalt rejoice in the Lord, and shalt glory in the Holy One of Israel. When the poor and needy seek water, and there is none, and their tongue faileth for thirst, I the Lord will hear them, I the God of Israel will not forsake them.
I will open rivers in high places, and fountains in the midst of the valleys: I will make the wilderness a pool of water, and the dry land springs of water. I will plant in the wilderness the cedar, the shittah tree, and the myrtle, and the oil tree; I will set in the desert the fir tree, and the pine, and the box tree together:
That they may see, and know, and consider, and understand together, that the hand of the Lord hath done this, and the Holy One of Israel hath created it. (Isaiah 41:8-20 version KJV)
The instruction, Fear not, is repeated more times than the number of days in a year in the Bible. Are we willing to obey the Lord's instruction?
Healing comes from the Lord.
Provision comes from the Lord.
Peace that surpasseth undersanding comes from the Lord.
In the pesence of the Lord, we have abundant joy.
He makes us victorious in our battels.
From Him and through Him
As we live life, trusting in the Lord, hoping in Him, He makes our paths straight. Jesus Christ is our Lord and saviour. Irrespective of our abundance or our lack, we choose to remember that He is our one and only source. All what we receive, all what we have is only from Him.
For everything comes from him and exists by his power and is intended for his glory. All glory to him forever! Amen. (Romans 11:36 version NLT)
Since God is the source of all things, we do not fear any situation or circumstance. Loving fear of God alone is what we have. We only seek to please Him and walk in His ways. We do not fear anything else.
But to us there is but one God, the Father, of whom are all things, and we in him; and one Lord Jesus Christ, by whom are all things, and we by him. (1 Corinthians 8-6 version KJV)
God, the father, Jesus the one son and the Holy Spirit, who make God are one. Only through Him we have abundant life, eternal life.
Every good gift and every perfect gift is from above, and comes down from the Father of lights, with whom there is no variation or shadow of turning. ( James 1:17 NKJV)
God provides. Jehovah jireh. And Abraham called the name of that place Jehovahjireh: as it is said to this day, In the mount of the LORD it shall be seen. ( Genesis 22:14 KJV) Abraham gave Mount Moriah the symbolic name Jehovah-Jireh to honor God's timely provision moments before Abraham was about to sacrifice Isaac. The lamb in the thicket served as a replacement for his son's moments away from being sacrificed.
He protects. He shields. ( a separate blog post on that within the month, then I shall link it here.)
God heals. He is Jevoha Rapha. The Lord the healer.
He gives us peace. Jesus Christ is the prince of Peace.
The Lord is the source of all good things. ( Read aloud once again James 1:17 stated a few lines above. )
He is the source of living water. The conversation between Jesus and the Samaritian lady who had come to draw water from the well at a time when no one ventured out is insightful/
10 Jesus answered and said to her, "If you knew the gift of God, and who it is who says to you, 'Give Me a drink,' you would have asked Him, and He would have given you living water."
11 The woman said to Him, "Sir, You have nothing to draw with, and the well is deep. Where then do You get that living water? 12 Are You greater than our father Jacob, who gave us the well, and drank from it himself, as well as his sons and his livestock?"
13 Jesus answered and said to her, "Whoever drinks of this water will thirst again, 14 but whoever drinks of the water that I shall give him will never thirst. But the water that I shall give him will become in him a fountain of water springing up into everlasting life." ( John 4:10-13 NKJV)
The Samaritian lady desired to come alone without encountering any one. Yet Jesus proposed to be there as his desire was salvation of the lady and through her the entire town.
We see Simon Peter had not caught any fish all night. But at the Lord's command he cast the net. The change in experience when he cast the net in obedience to the Lord was amazing beyond words.
4 When He had stopped speaking, He said to Simon, "Launch out into the deep and let down your nets for a catch."
5 But Simon answered and said to Him, "Master, we have toiled all night and caught nothing; nevertheless at Your word I will let down the net." 6 And when they had done this, they caught a great number of fish, and their net was breaking. 7 So they signaled to their partners in the other boat to come and help them. And they came and filled both the boats, so that they began to sink. 8 When Simon Peter saw it, he fell down at Jesus' knees, saying, "Depart from me, for I am a sinful man, O Lord!"
9 For he and all who were with him were astonished at the catch of fish which they had taken; 10 and so also were James and John, the sons of Zebedee, who were partners with Simon. And Jesus said to Simon, "Do not be afraid. From now on you will catch men." 11 So when they had brought their boats to land, they forsook all and followed Him.
Simon Peter was in great shock.
All night he was tirelessly working. He had cast the net multiple times.
It was in the same waters that Jesus asked Simon Peter to cast the net once again.
Simon, who had just cast the net the whole night, had become sick and tired of fishing. Yet at the instruction of Jesus, although his logical mind did not agree to once again cast the net, Simon agreed to just obey.
This time he was amazed that the net was full and heavy beyond imagination.
Simon knew that Jesus was the source of the abundant catch of fishes.
The catch was so superior that Simon Peter had to seek help from other fishermen, from nearby boats so that the abundant harvest of fish could be safely caught.
Thus Father Abraham, the Samartain woman, the Lady of the issue of blood, Simon Peter to name a few discovered that only through Jesus Christ, our Lord and Saviour, could we expect to receive all good and perfect things.
Every good gift and every perfect gift is from above, and comes down from the Father of lights, with whom there is no variation or shadow of turning. (James 1:17 NKJV)
It is only from God and through our God that we receive all things. And all these things bring glory and honour to God.
We remember that God received the glory and honour from the miraculous breakthrough of Father Abraham, the Samaritain woman, the lady with the issue of the blood and Simon Peter.
All these point to us that only from Him and through Him are all things.
For of Him and through Him and to Him are all things, to whom be glory forever. Amen.( Romans 11:36 NKJV)